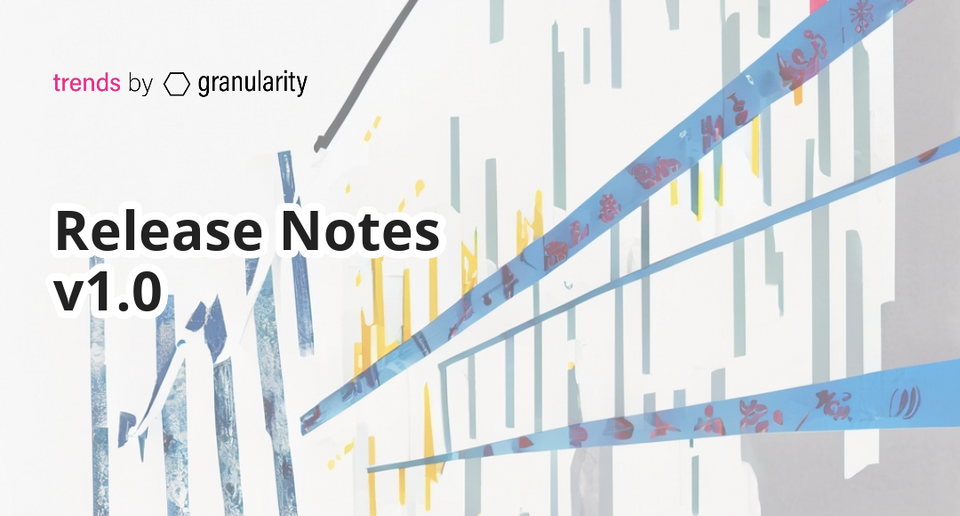 Release Notes - v1.0
These are the release notes for Release 1.0 of the Granularity Trends Platform.
Introduction
At Granularity HQ we're excited to announce the public release of Version 1.0 of the Granularity Trends Platform. This includes free or paid access to near real-time consumer market data for products and categories. This is a huge first step for our team and we're excited to share with you what we've been working on. Create an account today at https://trends.granularity.ca.

Web App Features
Get insights for categories/products you care about: as a free user, you can select 1 category and any number of its products to see near real-time insights on social and search data. For pro users, you can select up to 10 categories.

Get location-based insights: as a free user, you can select 2 locations for geo-specific insights. Pro users get up to 6.

Key 12-, 3- and forecast trend highlights: at a glance, see the performance of the category or product over the past 12 or 3 months, as well as the prediction of the product over the next 3 months.

Category visualization: see the search and social trend for the category over the past 4 years and the prediction over the next 6 months.

AI generated summaries of social media: have our AI model summarize the key trends you should know as a product planner for a given category or product line.

Flagged keywords: easy to decipher listing of the top 5 keywords that our AI model predicts to vary greatly from last season, both positive and negative. The differences between the AI model and baseline are visualized.

Geographic visualization: see locations represented as different sized bubbles on a globe.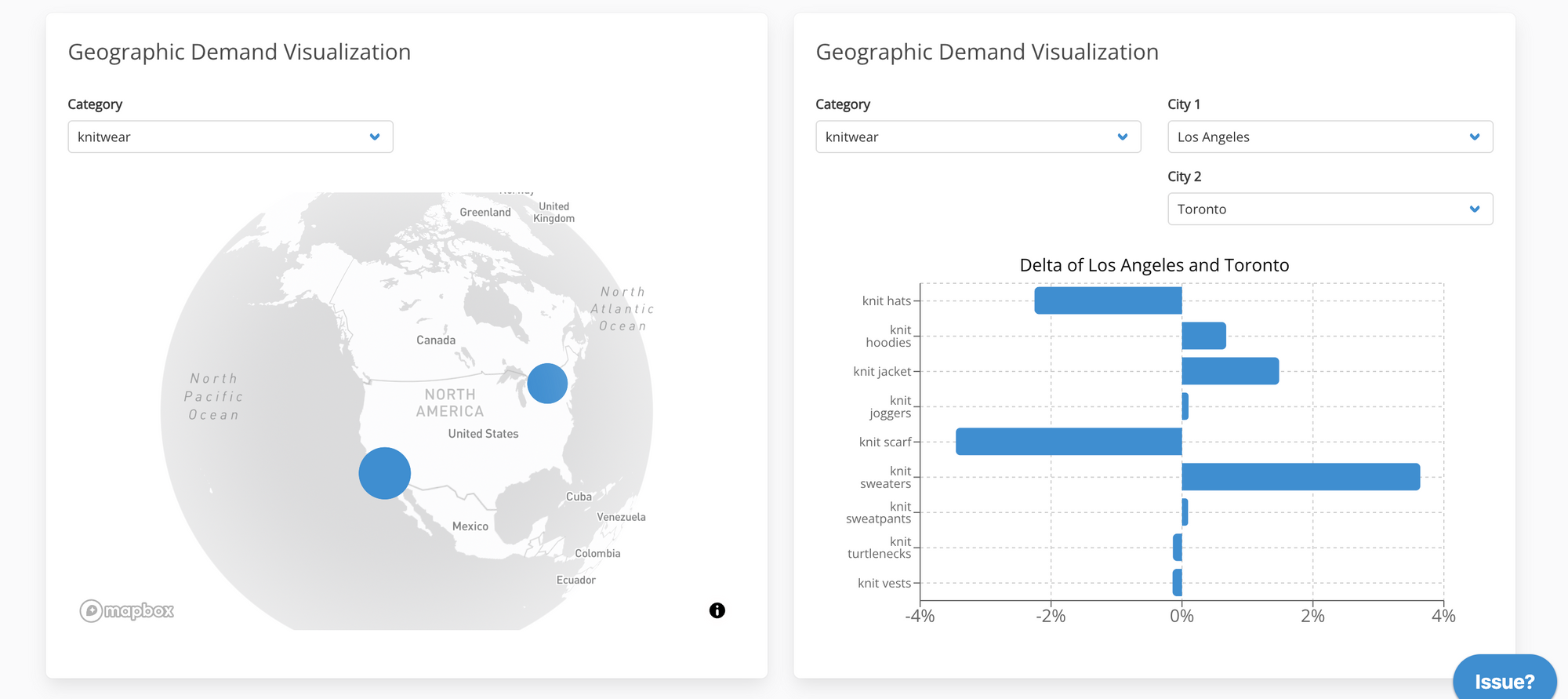 Location differences: compare the search popularity for products for a category between two different locations.
Known Issues
Geographic labels on the globe disappear after moving the mouse away
Selecting too many products to follow may cause issues on the product table display
Download data for professional users does not work in every case
Different browsers may have different experiences
Email verification does not work in every case
Upcoming Features
Top trending posts: receive a link to the top Tiktok posts for the categories you follow
Product visualization: see the same category visualization for products
Cross-pollination: insights on how social media trending post users are shared between products in a category
REST API access: Professional users will be able to access the data via REST API through specific access tokens and documentation
Continued performance tweaks improvements: improvements made to the load time and data serving to the web application
Continued UI improvements: we're exploring modulation as we grow the insights available from the Platform.
Acknowledgements
Many thanks to the whole Granularity team for their development work on this release. Thank you to our beta testers for continuing to test and recommend updates and our Industry Advisory Group for their continued support and feedback. Finally we thank our users and customers for their excitement and dedication to helping us create meaningful AI product forecasting innovation.
Support
Please contact [email protected] for any support items related to Release 1.0. You can also raise tickets directly through the Platform through the "Issue" prompt at the bottom of every screen.