Another big release from Granularity HQ as we've put TrendsDecoder v2.3.0 out live! Here are the major updates to the platform and a sneak peek into our end-of-year and beginning of 2024 roadmap. You can signup for free today at TrendsDecoder.
Introduction
We set off for v2.3.0 to highlight major updates and completely new features. There are more ways than ever before to understand consumer trends, including new regionality of keyword trends and the top social posts for products going all the way back to the past year or a slice from the last 60 days. These are big add-ons to our platform, and we're excited by what lies ahead as we continue to focus on keyword optimization and modelling.
New features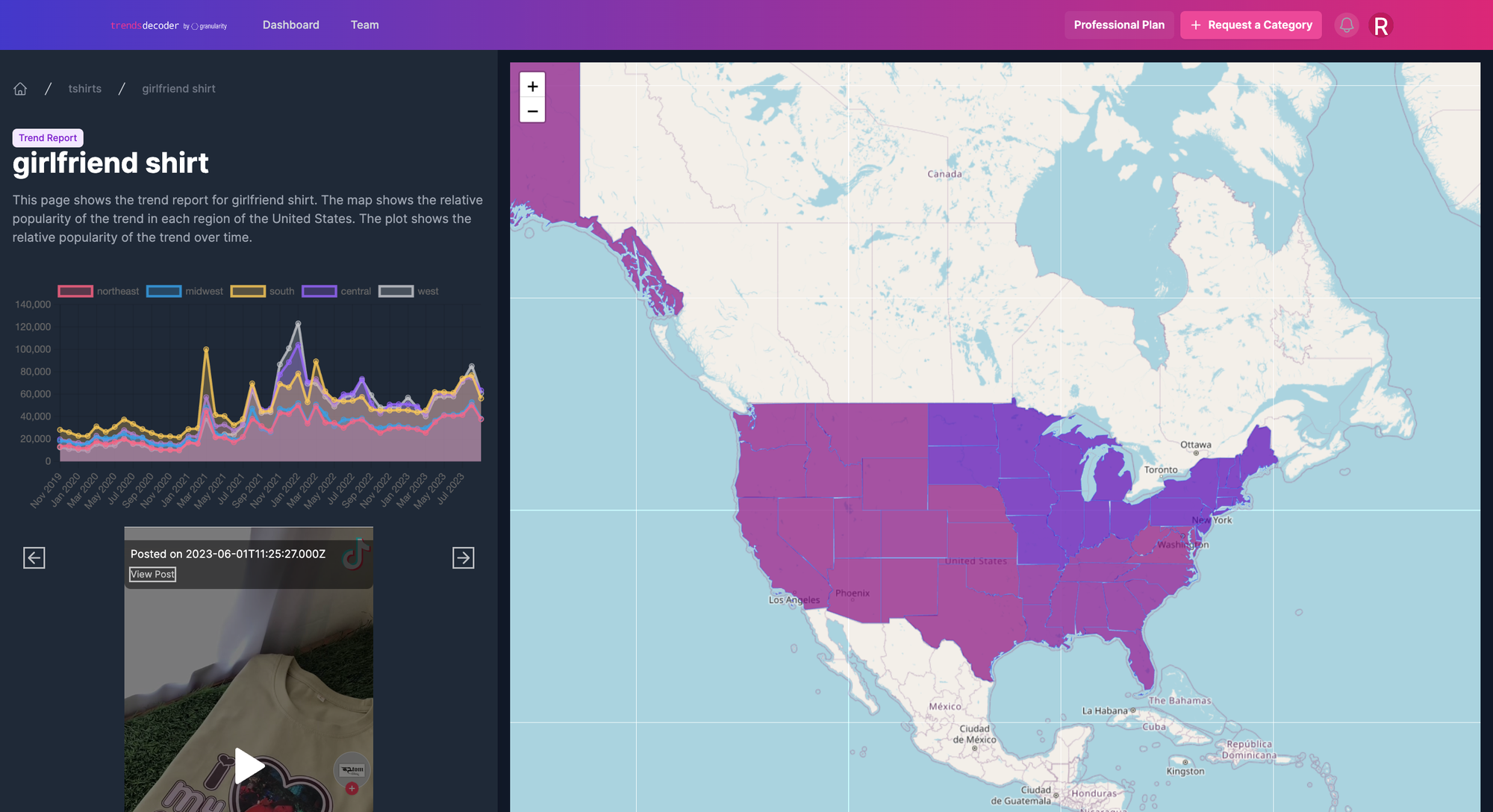 🙌 Keyword trend reports 🙌
Users consistently told us that keywords are the most important insight they can gather. These micro trends are the key to stocking the right inventory at the right location. So now we offer a dedicated page to these trends, accessible for the moment at the Category dashboard only. The trend report released in this version offers a regional heatmap of the trend's current search popularity in the continental United States, a historical chart of these regions over time, and the top social media posts related to the trend.
Expect development work to continue, and check our roadmap below to get a peak preview of what we have in mind for this major feature.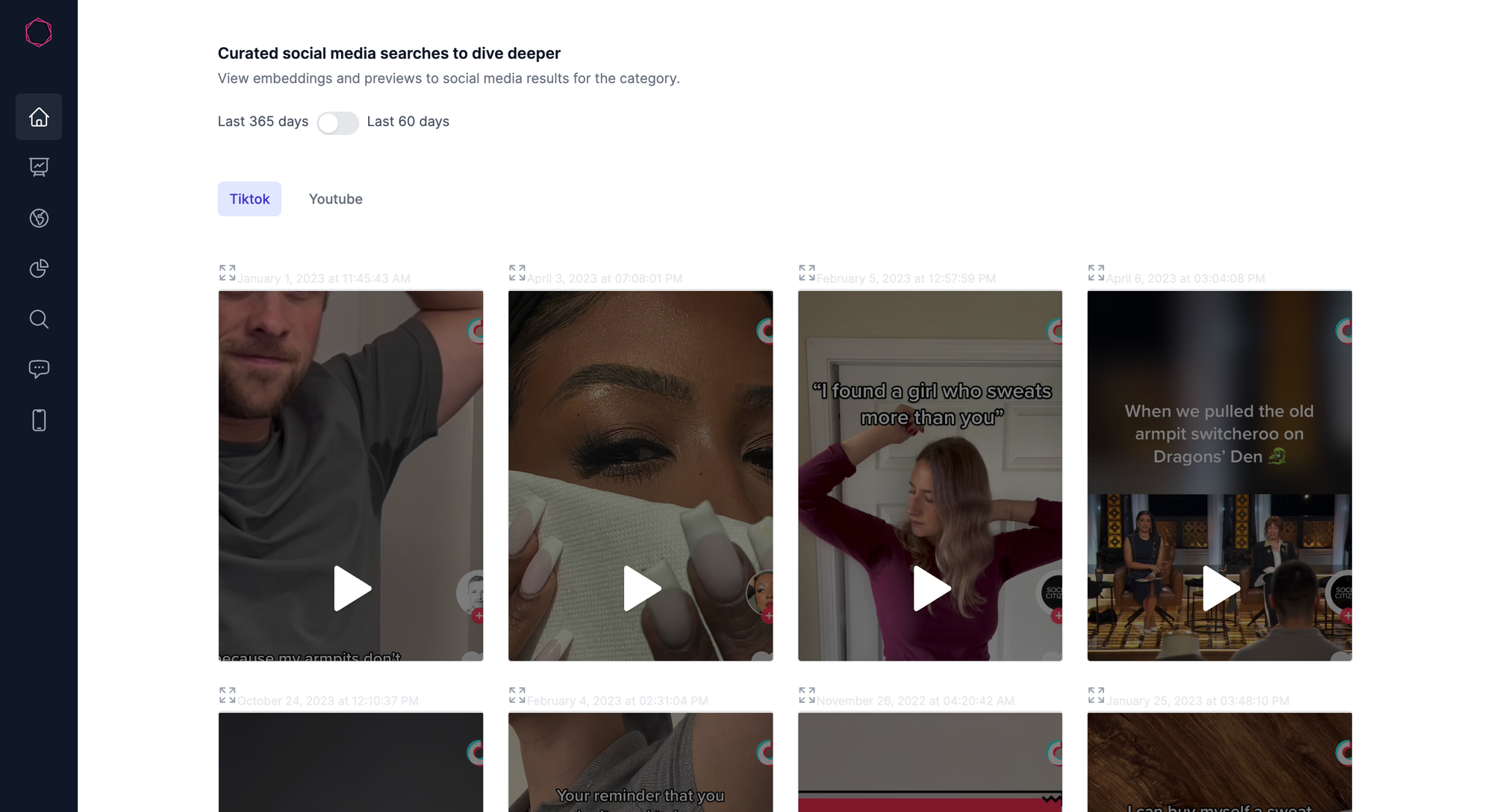 🎉 Product top social media 🎉
A major feature in the Category dashboard has also been added to the Product dashboard – users can now view the top social media posts for the product. These social sources match the sources on the Category dashboard, for now, TikTok and YouTube. And speaking of the top posts section …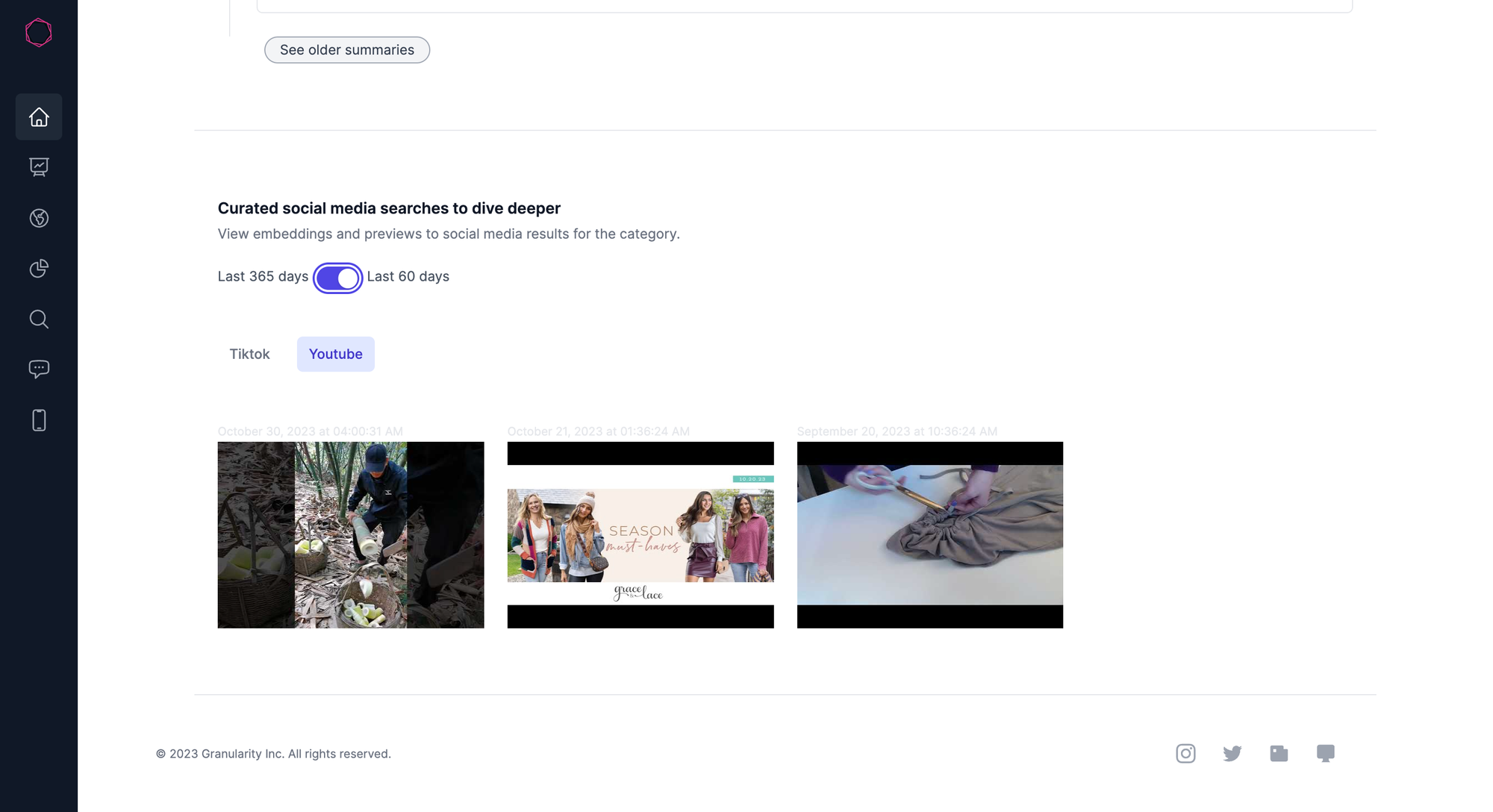 🗓️ Year or 60-day views for top social posts 🗓️
By demand, we've added a toggle to adjust the top social posts on the Category and Product pages to now filter by what the top posts were over the past year and what the top posts were the past 60 days. Previously this was the latter, but users requested to be able to see the biggest social posts from the last 365 days as well. We delivered!
Bug fixes
Minor fixes to product or category names with incorrect spelling
Continuing to correct and fix data showing up empty for some locations
Known limitations
Some keyword trend reports may show no data without a message. If the map is dark no data is available. Notifications are being added in the next patch.
Updating user profile images does not refresh the page. Current users must manually refresh. Patch is in the roadmap.
Subscriptions and paid access
We've also integrated our subscription tiers into the platform. For more details, visit this link to learn about pricing for TrendsDecoder. Users currently on the platform will not experience any immediate impact but will slowly see some features put behind the paid tiers. This includes social media data and category following adjustments.
Roadmap and features on the way
Keyword trend report features planned:

Expand trend report to keywords flagged at product-level
Add in additional top social posts
Add in AI generated summaries and post ideas

Product dashboard features planned:

Add AI generated summary of posts and keyword ideas
Add keyword summary table

Category dashboard features planned:

Add keyword summary table

"Virality" of trending social media data and search results to expand the definition of trends
Instagram top social posts and summary charts
Consolidation of location information for Free and Starter tiers into regions, not cities
Acknowledgments
Granularity acknowledges the time and effort spent by our users, and specifically those users who supported our development by dedicating time to answering questions and providing feedback. We also thank our team for continuing to provide the best real-time insights on consumer trends.
Additional resources or support