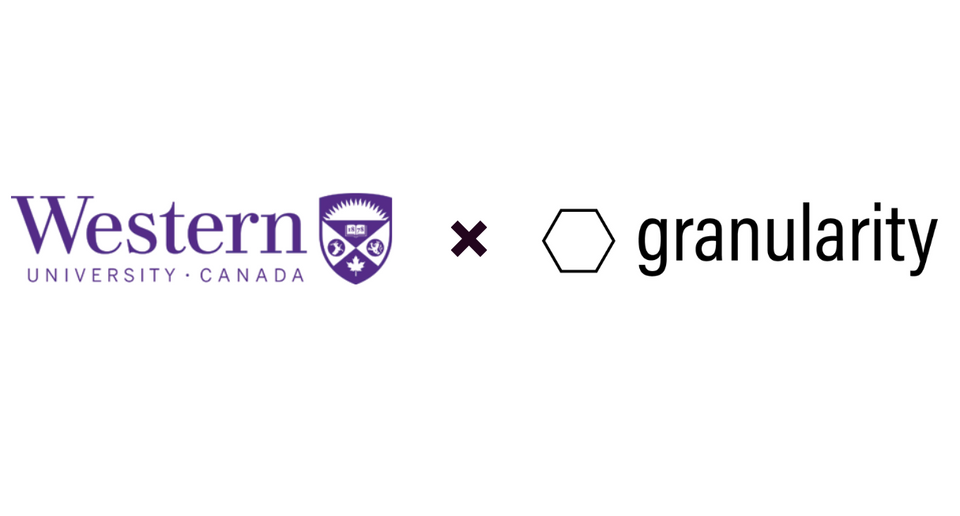 Announcing: Partnership with Western University & Granularity
Granularity, in collaboration with Dr. Umair Rehman, is spearheading a new era of trend analysis. Their pioneering research, conducted in partnership with the User Experience and Interactive Technology Lab (UXIT Lab) at Western University, is unraveling the intricate connections within unstructured data sources to achieve a holistic understanding of trends. This research initiative began in April 2023 and is ongoing throughout the year.
"I am thrilled to be part of this collaboration, as it allows us to advance the frontiers of trend analysis and explore novel methodologies. Together with Granularity, we aim to unlock meaningful insights from complex data, revolutionizing how businesses navigate the ever-evolving landscape of trends." says Dr. Umair Rehman, Director of UXIT Lab
The research is integrating advanced data science, data engineering, and UX expertise to transform the noise of raw data into meaningful and usable insights. The methodology revolves around the cross-pollination of trends, where diverse data sources are leveraged to uncover hidden connections and patterns. Raw data is being extracted directly from Tiktok posts, Instagram posts, Google Searches, Amazon sales data, Youtube videos, weather data, and others. Combining these datasets together helps identify the most actionable components within each.
Recognizing that trends vary across different platforms, such as TikTok trends and Instagram trends, the research delves into their inherent differences and characteristics. The team is measuring the vitality of trends, and developing a virality indicator that quantifies their impact and potential. This allows businesses to discern the distinct dynamics and implications of trends across various platforms. To provide context, the team is also comparing current trend movements with the historical movement of trends. Analyzing the trajectory and patterns of past trends enhances the understanding of changing market conditions. The team constantly strives to push the boundaries of what is possible, devising novel algorithms and methodologies to extract meaningful insights from complex datasets.
One use case Granularity is currently working on is measuring how a 73% year-over-year increase in posts about Gorpcore* apparel is changing the fall 2024 fashion trends. By predicting how this trend affects specific product lines, the research is informing assortment strategies, promotional tactics, and marketing positioning for a retailer navigating the dynamic athleisure landscape.
* Gorpcore is a fashion trend that focuses on hiking and high performance gear as a fashion style.
Working hand in hand with Western University, the research findings are validated through testing and experimentation. This collaborative approach ensures the credibility and reliability of the results, as they undergo scrutiny by esteemed academic and industry experts.
---
About Dr. Umair Rehman
Dr. Umair Rehman is an interdisciplinary researcher with a focus on understanding human behavior and performance in complex sociotechnical systems. He has extensive experience conducting collaborative research in the fields of user experience design, information systems, and human factors. His research interests include algorithmic experience design, games research, immersive computing, and human performance modeling. His aim to advance the state of the art in these areas through both theoretical and applied research.
Rehman's published research can be found here for reference.
About User Experience and Interactive Technology Lab
The User Experience and Interactive Technology Lab (UXIT Lab) is an interdisciplinary research lab dedicated to exploring the intersection of user experience design and interactive technology. Led by Dr. Umair Rehman, the lab focuses on understanding human behavior and performance within complex sociotechnical systems. Within the lab, researchers collaborate on projects that investigate various aspects of user experience and interactive technology. This includes studying how different design approaches impact user behavior, developing novel interaction techniques, exploring the potential of immersive technologies like virtual reality and augmented reality, and investigating the role of algorithms in shaping user experiences.
The UXIT Lab adopts a multidisciplinary approach, drawing expertise from fields such as human-computer interaction, computer science, psychology, and design. Through this interdisciplinary collaboration, the lab aims to generate valuable insights and practical recommendations that can inform the design and development of interactive technologies, ultimately improving user experiences in diverse domains.
About Granularity
Granularity empowers retailers and brands to stay ahead of viral trends with an AI-powered platform that predicts social media and search trends. Granularity's work was recently featured in the Toronto Star and they were named the top supply chain startup in Toronto.
Please direct media inquiries to [email protected].